Port Aransas Fishing Pier Catch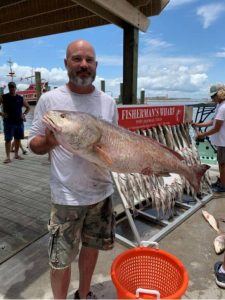 No matter what limits are set, they are broken when departing our Port Aransas fishing pier. On June 4th, 2021, a Redfish, which rarely reaches ten pounds in weight, measured twenty-seven pounds! When a fish weighs five pounds on average, and a twenty-seven-pounder is caught, you know limits have been broken. Fishing in Port Aransas can really pay off!
It was June 4th, 2021, and leaving our Port Aransas fishing pier was the true and steady Scat Cat. The day was warm, staying around 80°; the anglers were ready to bring in a catch but didn't expect the giant Redfish that lurked in the deep. Needless to say, they had a wonderful time with our captain and went home with bragging rights!
Although this happened over the summer, we're still in full swing with our chartered tuna fishing adventures and are providing memories for so many anglers seeking the thrill of offshore fishing.
Grumbles Seafood Co.
Feeling peckish after a long day of offshore fishing? Head to our local seafood restaurant, where you'll enjoy oceanfront dining with the freshest catch in town. Grumbles is a fast-casual restaurant where families and fishermen alike can come "as they are" directly from the beach or the boat. Enjoy the beautiful view of Port Aransas Harbor from our large, covered deck and watch the boats return from fishing as they unload their catch each afternoon. Grab one of our local hand-crafted drinks from the bar as you unwind. After all, you've already unloaded your catch!
Deep Sea Fishing Charters
Ready for your own fresh-caught adventure off the coast of Port Aransas? Check out our deep-sea fishing charters today. We're specializing in our tuna adventures right now, so book your tuna trip today! Our captains are looking forward to making your trip memorable.