Tuna Fishing Charters in Port Aransas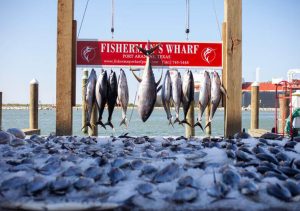 Tuna Fishing Charters are now in season! So join us this season to make your catch! Call today to book your appointment.
With fall finally here, Tuna is coming closer to the surface, just waiting for you to catch it. And because the Tuna is coming closer, Port Aransas' Tuna Fishing Charters offer a full 56-hour experience of offshore fishing. We spend almost three days with just the sea, while sleeping on it for two nights. During this time, we provide you with all the bait, tackle, and supplies you need! (Though we suggest you bring your own.)
Not only can you rent out a Tuna Fishing Charter, but you can rent out our Scat Cat and Wharf Cat as well! For those that have large groups, want family reunions, or are hosting an event, you can rent a private tour. In fact, our entire Scat Cat and Wharf Cat are available for private tours.
Port Aransas Fishing is prepared for Tuna season! We have our crew, captains, and boats already prepared to take you out on these trips. Start booking your Tuna Fishing Charters now!
Grumbles Seafood Co.
Feeling peckish after a long day of offshore fishing? Head to our local seafood restaurant where you'll enjoy oceanfront dining with the freshest catch in town. Grumbles is a fast-casual restaurant where families and fishermen alike can come "as they are" directly from the beach or the boat. Enjoy the beautiful view of Port Aransas Harbor from our large, covered deck and watch the boats return from fishing as they unload their catch each afternoon. After all, you've already unloaded your catch!
Deep Sea Fishing Charters
Ready for your own fresh-caught adventure off the coast of Port Aransas? Check out our deep sea fishing charters today. Our captains are looking forward to making your trip memorable.