Port Aransas Fishing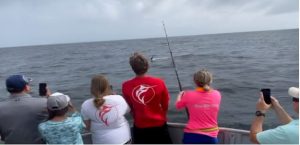 Thanks to Captian Ronnie and his Scat Cat, a lucky angler caught a quite rare sailfish catch with Port Aransas Charter Fishing! On July 9th, 2021, this lucky angler Megan Teel, had caught a Sailfish! Coming all the way from Fort Worth Texas (over six hours), Megan Teel had come for an extraordinary catch. Whether she knew it or not, this trip would be worth the drive! Soon, traveling about thirty-four miles offshore, the Scat Cat traveled with its passengers to set out on it's deep sea fishing adventure. Later, this lucky angler experienced something many people didn't have the privilege to enjoy on fishing charters.
Because catching a Sailfish is so unusual, some may think Megan Teel did a 24 Hour trip or longer to catch this, but they'd be wrong. With Port Aransas Charter Fishing, you can catch fish this rare sailfish in short periods of time! Megan Teel only traveled thirty-four miles offshore on the 6 Hour trip, and caught her prize in that short time. Almost certainly she'd have this memory for time to come.
Fishing Port Aransas
There are plenty of fish in the sea. Captains aboard our 72 foot aluminum catamaran are ready to take you on your deep sea adventure. Designed for stability so you and your family, friends or colleagues can enjoy your chartered excursion at its finest.
Feeling peckish after a long day of offshore fishing? Head to our restaurant where you'll enjoy ocean front dining with the freshest catch in town. Grumbles is a fast casual restaurant where families and fisherman alike can come "as they are" directly from the beach or the boat. Enjoy the beautiful view of the Port Aransas Harbor from our large, covered deck and watch the boats return from a day of fishing as they unload their catch each afternoon. After all, you've already unloaded your catch!
Deep Sea Fishing Charters
Ready for your own fresh caught adventure off the coast of Port Aransas? Check out our deep sea fishing charters today. Our captains are looking forward to making your trip memorable.