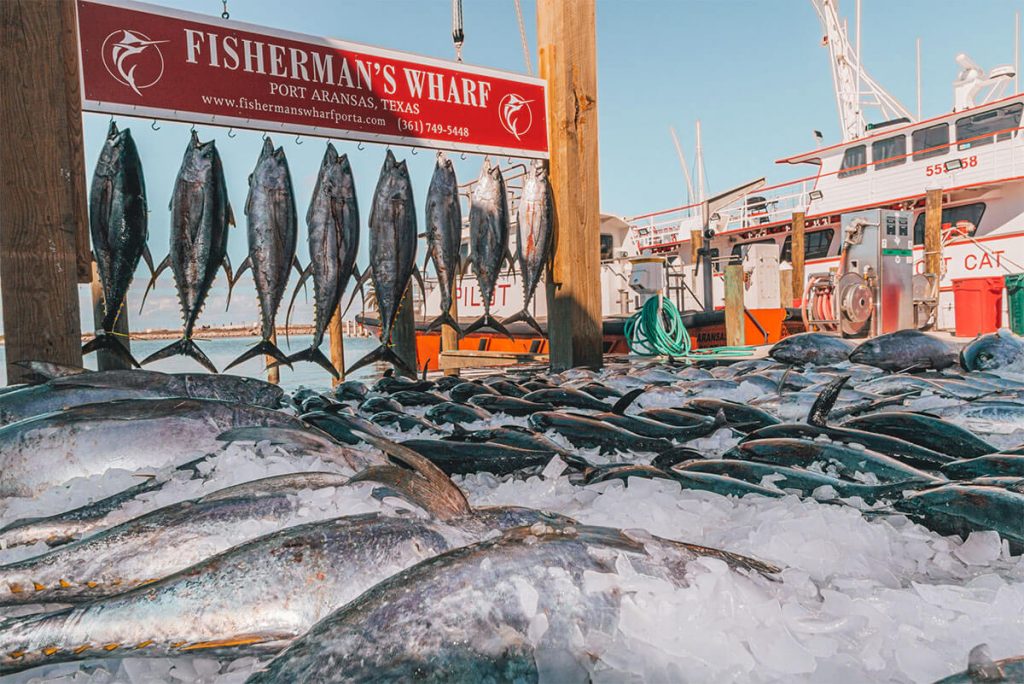 Port Aransas Fisherman's Wharf Tuna Trips
The 56-Hour Tuna Trip targets yellowfin tuna off the coast of Port Aransas.
Come and spend two nights offshore fishing the deep-water rigs off the Gulf of Mexico, targeting Yellowfin Tuna under the lights using live or dead baits, artificial flying fish, jigs, and surface poppers. On this trip, it's also common to catch Blackfin Tuna, Wahoo, Barracuda, Mako Shark, and even an occasional Blue Marlin. We offer the 56-hour trip during the cooler months of winter and fall.
Your go-to fishing report for Port A and surrounding areas
Port Aransas Inshore/Offshore Fishing Report- 7/8/2020
Offshore Summer is not the only thing heating up as we have seen a great run of fishing offshore recently. The 2 weeks leading up to the 4th of July weekend were quite windy, but as the wind dropped, the number of boats out in the Gulf skyrocketed.  Good news for the humans but bad news for the fish. . .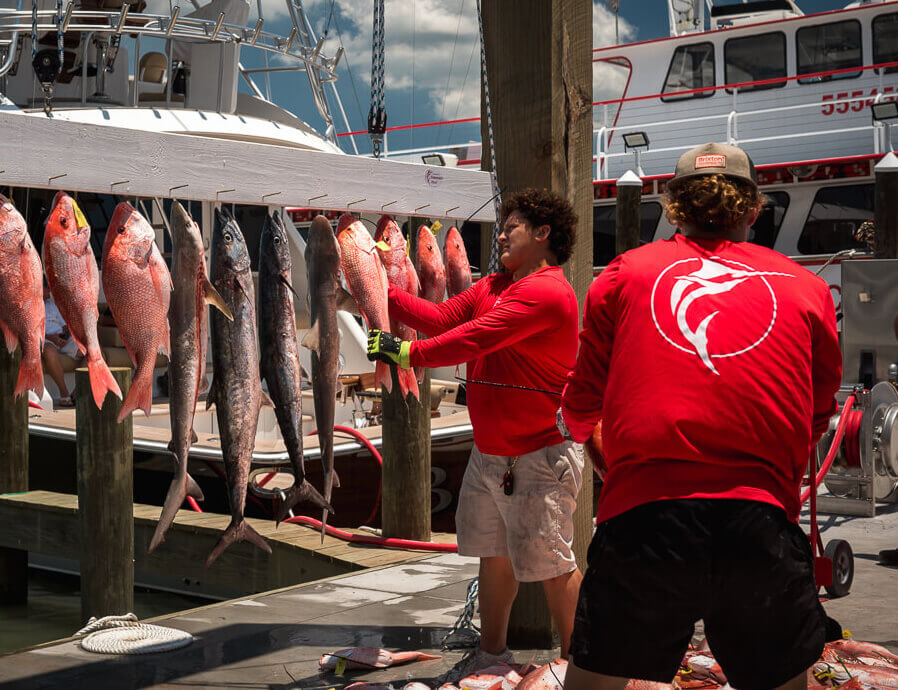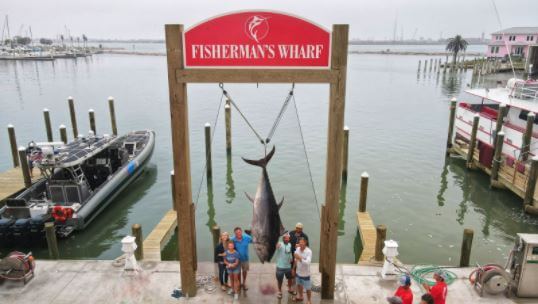 PORT ARANSAS SUMMER FISHING
Texas Bluefin Tuna State Record
Port Aransas Fishing Charter
On April 13th, 2021, an old record made back in 1985 was broken with Port Aransas Charter Fishing. Captain Troy Lancaster, Tuesday, at 1:30 in the morning, caught a groundbreaking Bluefin Tuna off the shores of Port Aransas. With the last record being only 806lb, they'd beaten it by over 50lb! Soon after, Official Weight Master, Captain Dee Wallace, weighed the fish, figuring out its exact weight of 876lb! Troy Lancaster, a Qualified team and angler, caught this high-weight fish. While on a search of Marlin through Port Aransas Charter Fishing, his line caught . . .
What are the current weather conditions
Weather (see what we did there ha-ha) it's sunny skies, rain showers, high pressure, low tide or all of the above . . . it's important to stay in the loop with mother nature's forecast is! Keep tabs on the weather to better plan your trip with us!
The current weather can vastly change the experience of you trip, so be sure to keep tabs on what's going on! If it's a rainy day, you'll spend more time on the outdoor boat area, and have a sunnier experience. However, during the rain, the fish will come closer to the surface. During this time, you can catch fish much faster!
Be sure to check out the weather before booking your next exposition with Fisherman's Wharf Port Aransas!
READY TO go fishing OFFSHORE?
Port Aransas fishing charters tailored for you! Just pick the best time.
Booking your bay fishing trip has never been easier and we have several options to choose from! To start, we have the six-hour charter, which is perfect for new and advanced anglers who want a quick trip. Of course, six hours may not be enough, but that's okay! We also offer a nine-hour trip and a twelve-hour trip for those wanting a full-day attraction. During these longer trips, we target some larger fish on the Gulf of Mexico.
Finally, we have our overnight, fifty-six-hour trip. We spend two nights offshore in either the Wharf Cat or Scat Cat, and fish for some larger catches, including Yellowfin Tuna. During this all-out sea adventure, we target deep-sea fish, such as Dorados, Blackfin Tuna, and Wahoos. Even an Blue Marlin is often found on this trip!
We had an incredible time offshore today. Captain Jay put us right on the red snapper and my kids had a wonderful time. We will definitely be back.
I was worried because the surf had been so big at the beach the past few days, so we were a little scared of our trip being too rough and getting sick. We ended up being really surprised at how smooth the trip out ended up being, and how the boat didn't rock too bad while we were out there, and everyone caught fish. It was a great day!
I have brought my dad down for the last few years and tried most of the boats in Port Aransas and want to say just how nice the trip was on the Wharf Cat. I was told it has just been redone on the inside and it was great! The deck hands were some of the nicest we have ever had, especially with my dad being older, they really looked after him and made him feel special. It has taken a while but we don't have to keep looking for who to go with. This is the best!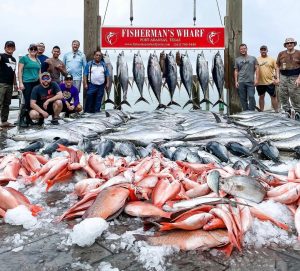 5️⃣6️⃣ HOUR TUNA TRIP HAUL 🤙🏼 Everyone met their limits of 🆈🅴🅻🅻🅾🆆🅵🅸🅽 🙌🏻 they walked away with some BIG 80-120lb ones! Amazing! Came inshore some & caught their limits of
Read More »