SNAPPER AND KINGFISH 2022 SUMMER SERIES OFFICIAL RULES
Weigh Masters
9:00am – 7:00pm
Dee Wallace – (361) 815-1612
Tray Clark – (361) 960-4222
Johnny Payne – (361) 437-8764
Rules, including all printed rules and rules available at fishermanswharfporta.com are all subject to change. It is the responsibility of all participants of the tournament to abide by the tournament rules. Once entry form has been paid and signed, you have agreed to abide by the tournament policies.
Entrants MUST comply with all Federal, State, and Local fishing regulations. Any illegal fish brought to be weighed-in will be disqualified from the tournament immediately.
All anglers have the option to fish one or both tournaments.
In the event that official regulators change season dates or close the seasons all together, the tournaments will change accordingly.
Entry forms MUST be filled out at Port Aransas Fisherman's Wharf, 900 Tarpon St. Port Aransas, TX. Entrants urged to keep entry form as proof of entry.
You MUST be entered into the tournament, entry fees paid, and form signed, before departing to fishing grounds. If you have not been registered for the tournament, come back and weigh-in a fish, it will not be eligible for the tournament.
Anglers may enter tournament at any time, it is a $50 dollar entry fee for each division, (Kingfish and Snapper), once you have paid the entry fee and signed form, fish on!
Snapper division dates: June 1st- August 2nd
Kingfish division dates: June 1st- September 6th
Snapper minimum length: 15in
Kingfish minimum length: 27in
FISHING STARTS for Red Snapper and Kingfish categories on June 1st at 12:01am.
FISHING ENDS for Red Snapper on August 2nd at 11:59pm, and September 6th at 11:59pm for Kingfish.
FISHING STARTS for Red Snapper and Kingfish categories on June 1st at 12:01am.
All vessels must depart and return through Port Aransas jetties.
All fish must be brought to Fisherman's Wharf by a registered angler on the boat it was caught on. If you fished on a for hire vessel, a receipt or confirmation email must be presented during weigh-in.
Fish must be weighed in by an official weigh-master. The official weigh masters being Dee Wallace, Riley Gano, Joseph Mayne, and Johnny Payne. The fish house is open from 9:00am- 7:00pm. Once fish has been weighed, the official weigh-in form will be filled out. Registered angler will receive a copy and will need to hold onto it as proof of weigh-in.
Weight will be the main form of competition, in case of a tiebreaker, after weight it will go to the time weighed in.
WINNERS will be announced for Snapper division on August 20th, and for Kingfish division on September 7th.
Prize money will be equal to all entry fees minus 15%.
THIS IS A WINNER TAKE ALL TOURNAMENT
By entering this tournament, you agree to submit to polygraph. Officials can order a polygraph at any time.
All participants fish at your own risk, we urge all anglers to make sound decisions when it comes to weather and abiding by fishing laws.
Port Aransas Fisherman's Wharf is not responsible for any accidents or injuries that may occur while fishing for any tournament.
NO CANCELATIONS or refunds will be made. Once entered into tournament, you may fish until the closing date.
Anyone can win
No matter if they are on a party boat or a million-dollar sport fisher
This year our Snapper and Kingfish tournaments are going to be big! The tournament will run from June 1st to August 2nd for Red Snapper, and June 1st to September 6th for Kingfish. These tournaments are designed to be all-inclusive!
Everyone is welcome to join with a small entry fee of $50 dollars, for each tournament! You can enter one or both, but you can't win if you aren't entered! Come into Fisherman's Wharf and sign up today to get your name on a big check!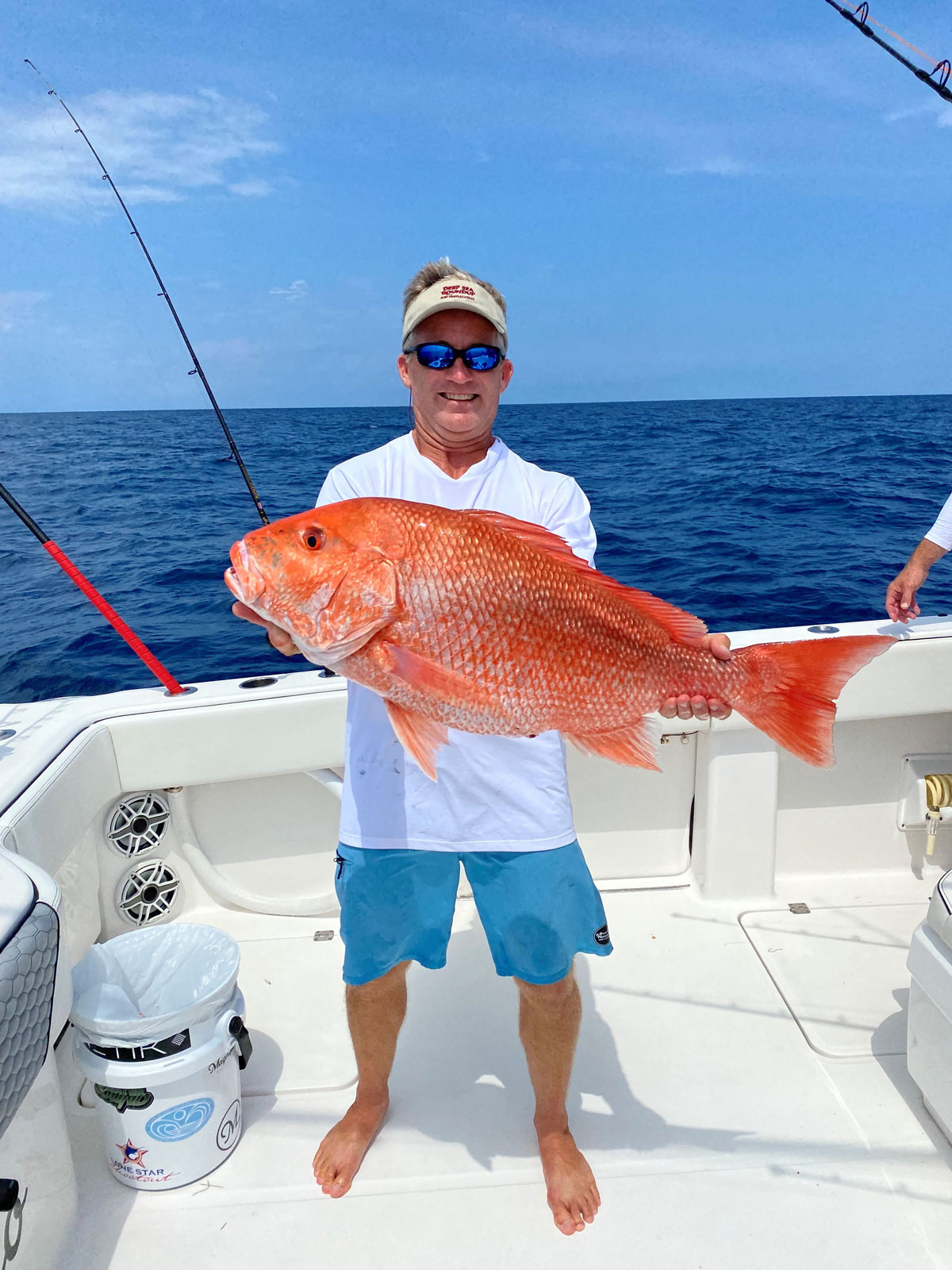 Congratulations to 2021 Red Snapper Winner!
Congratulations to 2021 Red Snapper Winner!