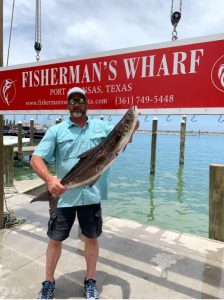 Traditions are something that fishing in Port Aransas has been keeping alive for many families. Another family is holding a tradition from the past generation; this tradition was set by a father who loved fishing very much. Dave started fishing on the Wharf Cat at only seven years old and has been fishing there ever since. Recently, he took his daughter fishing with him to keep a family tradition alive. Captain Ronnie of the Wharf Cat took them thirty-one miles offshore. Soon, they moved on to their mission of targeting red snappers. While they did catch numerous red snappers, their biggest prize was a large Ling. The daddy-daughter Port Aransas fishing charter was successful.
Ling is a long, slender fish with a large head and eyes. Although they are often called "Lingcod," they actually aren't related to cod. They can grow up to five feet long and be up to eighty pounds, and often they live up to twenty years. Often times, they are dark gray, greenish, or brown, with copper-like spots or mottling on their upper back. They have eighteen sharp, abnormally large teeth in their largemouth. Consequently, they earned the nickname "Buckethead."
And so, on June 23rd, Dave had his offshore daddy-daughter Port Aransas fishing trip.
Grumbles Seafood Co.
Feeling peckish after a long day of offshore fishing? Head to our local seafood restaurant, where you'll enjoy oceanfront dining with the freshest catch in town. Grumbles is a fast-casual restaurant where families and fishermen alike can come "as they are" directly from the beach or the boat. Enjoy the beautiful view of Port Aransas Harbor from our large, covered deck and watch the boats return from fishing as they unload their catch each afternoon. After all, you've already unloaded your catch!
Deep Sea Fishing Charters
Ready for your own fresh-caught adventure off the coast of Port Aransas? Check out our deep-sea fishing charters today. Our captains are looking forward to making your trip memorable.