Fishing Port Aransas: Strawberry Grouper
Port Aransas Fishing has provided many interesting catches in the ocean, including a fruity creature commonly known as the strawberry grouper.
The Port Aransas Strawberry Grouper
The Strawberry Grouper is an interesting type of fish. Unlike most groupers, it is a colorful red instead of a plain brownish tint. It also can be spotted (as seen in the photo), striped, and have just about any pattern. But, because it is a Grouper, it has the characteristics of one. Usually, a grouper on average is a little over three feet long, with large mouths and bodies that are even larger—they are also short and fat. Whereas a Strawberry Grouper on average is just under one foot. Something they have in common, however, is their ability to change colors depending on their mood. Imagine that! Depending on how the Strawberry Grouper feels, it will change the color of its skin. This Grouper also gets its name from its skin tone—a reddish, spotted tint that makes it look like a strawberry.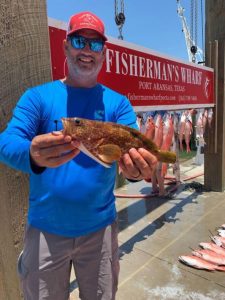 The Port Aransas Strawberry Catch
Coming from about six hours out, Angler Brad Gilliam traveled from Burleson Texas to Port Aransas. Little did he know, he'd make a fruitful catch. With Captain Jake and the Scat Cat, Brad Gilliam set sail. After arriving at their destination twenty-nine miles offshore, the anglers prepared themselves for a day of Snapper fishing. However, they not only came home with their Snappers, but also with a Grouper. It was only soon after that Captain Jake and Angler Brad Gilliam came home from their offshore fishing experience on June 13th.
There are plenty of fish in the sea. Captains aboard our 72-foot aluminum catamaran are ready to take you on your deep-sea adventure. Designed for stability so you and your family, friends, or colleagues can enjoy your chartered excursion at its finest.
Grumbles Seafood Co.
Feeling peckish after a long day of offshore fishing? Head to our restaurant where you'll enjoy ocean front dining with the freshest catch in town. Grumbles is a fast casual restaurant where families and fisherman alike can come "as they are" directly from the beach or the boat. Enjoy the beautiful view of the Port Aransas Harbor from our large, covered deck and watch the boats return from a day of fishing as they unload their catch each afternoon. After all, you've already unloaded your catch!
Deep Sea Fishing Charters
Ready for your own fresh-caught adventure off the coast of Port Aransas? Check out our deep sea fishing charters today. Our captains are looking forward to making your trip memorable.