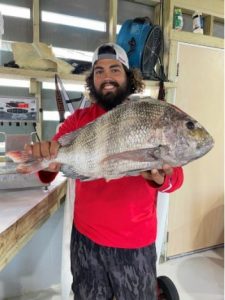 Fernando, a crew member of not only the Wharf Cat, but also the Scat Cat, recently caught something that doubled the average size of their species: a sheepshead while charter fishing. Fernando caught this fish off Port Aranas, with its weight being 8.80lb, which is much larger than the average three to four pounds! In the first two photos, you can see Fernando holding his prize. South of the Jetty, Sheepshead fish can be found looking for crabs or hanging around rock structures sunning. They mostly eat crustaceans, so their diet mostly includes shellfish. These fish have also been looking around for some structures for crabs, shrimp, oysters, and sand fleas, so their meat tastes delicious! You can catch them at Port Aransas Charter Fishing.
They caught the Sheepshead when charter fishing on an off-day, just off the Jetty shore, when the fish were looking for crustaceans.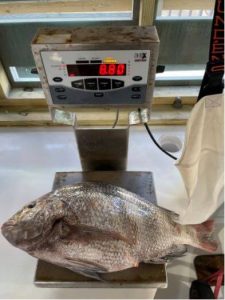 Later, this fish was caught, cleaned, gutted, etc., and four pounds of meat was taken from it. And on top of that, their fillets can be baked in any way you'd like! Beforehand, however, you can see in the attached photo that it weighs an exact 8.80lb.
The fish looks strange if you look at the smile, though—its mouth seems to be filled with molars. In the first photo, you can see what it looks like for proof. The rest of the body can be silver-looking or a greenish-yellow color, and they generally have an olive-toned back. There are also some dark-looking horizontal stripes across its back, which helps distinguish them from other fish.
Grumbles Seafood Co.
Feeling peckish after a long day of offshore fishing? Head to our restaurant, where you'll enjoy ocean-front dining with the freshest catch in town. Grumbles is a fast-casual restaurant where families and fishermen alike can come "as they are" directly from the beach or the boat. Enjoy the beautiful view of Port Aransas Harbor from our large, covered deck and watch the boats return from a day of fishing as they unload their catch each afternoon. After all, you've already unloaded your catch!
Deep Sea Fishing Charters
Ready for your own fresh-caught adventure off the coast of Port Aransas? Check out our deep-sea fishing charters today. Our captains are looking forward to making your trip memorable.