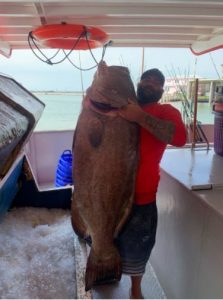 Imagine catching a fish so large that you have trouble picking it up yourself, all while on a Port Aransas Black Grouper charter fishing! On a charter off the shores of Port Aransas, a fish was caught—weighing in at 82 pounds! They caught the Black Grouper while on a nine-hour chartered trip, something provided by Fisherman's Wharf Port Aransas. Check out the photos; you can see how many fish were caught during our nine-hour adventure. The anglers weren't done yet—even considering how many fish they already had. Britney Fechner had to throw out one more cast, and she succeeded when she did so. Britney caught an 82lb Black grouper! She was then able to take it home and gain bragging rights from the adventure. She isn't in the attached images, but you can see the amazing catch side-by-side with everything else.
This man is holding an 82-pound Black Grouper, practically the size of him! That's good eating!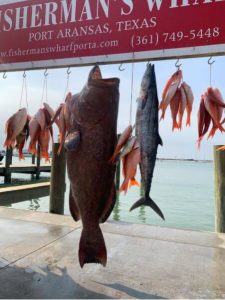 You can see the Black Grouper hanging next to all the other fish, at least three times bigger than the rest.
Grumbles Seafood Co.
Feeling peckish after a long day of offshore fishing? Head to our restaurant, where you'll enjoy oceanfront dining with the freshest catch in town. Grumbles is a fast-casual restaurant where families and fishermen alike can come "as they are" directly from the beach or the boat. Enjoy the beautiful view of Port Aransas Harbor from our large, covered deck and watch the boats return from fishing as they unload their catch each afternoon. After all, you've already unloaded your catch!
Deep Sea Fishing Charters
Ready for your own fresh-caught adventure off the coast of Port Aransas? Check out our deep-sea fishing charters today. Our captains are looking forward to making your trip memorable.