Port Aransas Charter Fishing 109lb Spinner Shark
The Scat Cat recently caught hundreds of fish on a nine-hour fishing charter with its thirty-seven members on board, dating April third, 2021, though the spinner shark from Port Aransas Charter Fishing stood out among the rest, with its weight being 102lb! The Spinner Shark gets its strange name from a hobby of its—spinning! This species of shark jumps out the water, reaching heights of up to twenty feet, does three barrel rolls in the air, then lands with a dive. To get their food, they circle a school of fish. Next, they will open their mouths wide and start spinning in circles. Finally, they dart through the center of the bait ball—which is a tightly packed sphere of fish—and gobble down anything in their path. All while spinning.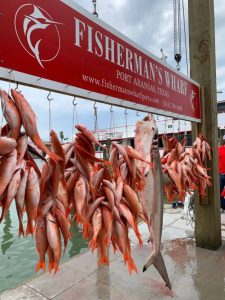 In the attached photo, you can see the amount of B-liner fish caught on the trip. And, so you don't have to count, I can tell you that it totals to over two-hundred-fifty fish! Technically, B-liners are Vermillion Snappers, but they earned the nickname B-liner. Here is a humorous theory on where they got their name.
American Red Snappers bring in more money commercially than Vermillion Snappers. They are also called A-liners, and, because of this, the Vermillion Snapper is called a B-liner.
Grumbles Seafood Co.
Feeling peckish after a long day of offshore fishing? Head to our restaurant where you'll enjoy ocean front dining with the freshest catch in town. Grumbles is a fast casual restaurant where families and fisherman alike can come "as they are" directly from the beach or the boat. Enjoy the beautiful view of the Port Aransas Harbor from our large, covered deck and watch the boats return from a day of fishing as they unload their catch each afternoon. After all, you've already unloaded your catch!
Deep Sea Fishing Charters
Ready for your own fresh-caught adventure off the coast of Port Aransas? Check out our deep sea fishing charters today. Our captains are looking forward to making your trip memorable.