Fisherman's Wharf State Record
On April 13th, 2021, an old record made back in 1985 was broken with Port Aransas Charter Fishing: Fisherman's Wharf set the state record for Bluefin Tuna!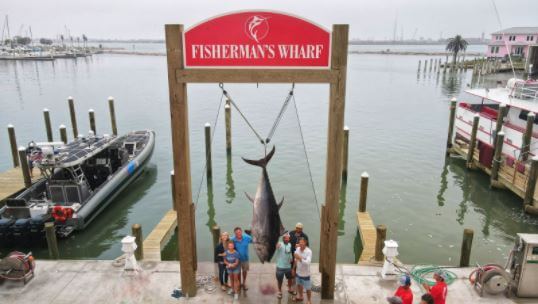 Captain Troy Lancaster, Tuesday, at 1:30 in the morning, caught a groundbreaking Bluefin Tuna off the shores of Port Aransas. With the last record being only 806lb, they'd beaten it by over 50lb! Soon after, the Official Weight Master, Captain Dee Wallace, weighed the fish, figuring out its exact weight of 876lb! Troy Lancaster, a Qualified team and angler, caught this high-weight fish. While on a search of Marlin through Port Aransas Charter Fishing, his line caught. The bait he used was a Skipjack Tuna to catch this monster. It also took nine hours to reel in, and another hour to bring into the boat. Imagine fighting a record-setting beast through midnight! As a result of the long haul, he made the Texas State Bluefin Tuna Record.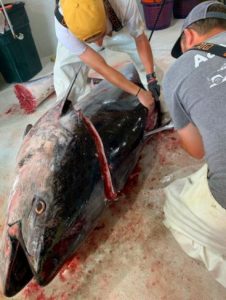 Bluefin Tuna have a very meaty texture to them, with flakes dotting their insides, and are often served in sushi, but can easily be cooked to get a thick texture.
In the attached image, you can see Captain Troy Lacaster's massive prize hanging above him. You can also see the fish lying down next to two grown men, with its length seemingly equal to theirs. Needless to say, the fish was huge—no wonder it'd shattered the record!
Grumbles Seafood Co.
Feeling peckish after a long day of offshore fishing? Head to our local seafood restaurant, where you'll enjoy oceanfront dining with the freshest catch in town. Grumbles is a fast-casual restaurant where families and fishermen alike can come "as they are" directly from the beach or the boat. Enjoy the beautiful view of Port Aransas Harbor from our large, covered deck and watch the boats return from a day of fishing as they unload their catch each afternoon. After all, you've already unloaded your catch!
Deep Sea Fishing Charters
Ready for your own fresh-caught adventure off the coast of Port Aransas? Check out our deep-sea fishing charters today. Our captains are looking forward to making your trip memorable.