C18 Engine for Fishing in Port Aransas
Fisherman's Wharf has taken Fishing in Port Aransas to a new level! As of last week, the Wharf Cat got a new engine. The Wharf Cat is home to many fishing reports and is one of our proudest boats.
The Wharf Cat is a seventy-two-foot-long monster of the sea. Because of this size, it can hold up to seventy-eight people! The hull is an aluminum catamaran, designed for stability. The Wharf Cat is also built for speed, ready to give you more time fishing on your offshore fishing charters.
Every area in Port Aransas has fishing reports, lists of rare catches, and special moments, but this is a time to celebrate The Wharf Cat. Through the years, we've made many catches aboard this faithful boat, and this addition now promises a more secure future. As always, we are making constant improvements and updates to our boats—this new engine is just another promise of your safety and comfort aboard our ships.
Port Aransas Fishing Stories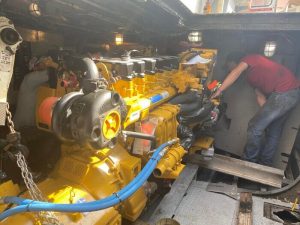 Our beloved Wharf Cat is home to traditions that we will remember forever. You can find a Father-Son Duo tradition that was kept alive with the Wharf Cat. Angler Brandon Johnson had nowhere to for fishing; nowhere to go to keep alive his tradition. He soon found Fisherman's Wharf, and he led a journey on the Wharf Cat. On this trip, both father and son reached their snapper limit, and caught several large kingfish as well.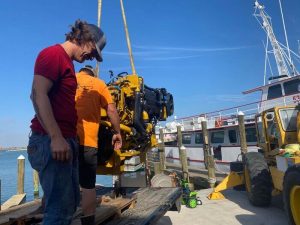 Aboard the Wharf Cat, we have one more story to tell: There was a man named Dave, and he'd been fishing on the Wharf Cat since he was seven. Later in life, he had a daughter, and wanted to share his love of fishing with her. It was one this day he began his tradition of fishing with her. For those that want the full story, click here.
As you can tell, Fisherman's Wharf is the home to many memorable fishing reports. This new C18 engine is also a new hope for our future, and we are excited to see where it will lead.
Feeling peckish after a long day of offshore fishing? Head to our restaurant, where you'll enjoy waterfront dining with the freshest catch in town. Grumbles is an ocean-front seafood restaurant where families and fishermen alike can come "as they are" directly from the beach or the boat. Enjoy the beautiful view of the Port Aransas Harbor from our large, covered deck and watch the boats return from a day of fishing as they unload their catch each afternoon. After all, you've already unloaded your catch!
Deep Sea Fishing Charters
Ready for your own fresh-caught adventure off the coast of Port Aransas? Check out our deep sea fishing charters today. Our captains are looking forward to making your trip memorable.