Port Aransas Fishing: Deep Sea Roundup Mike Hagee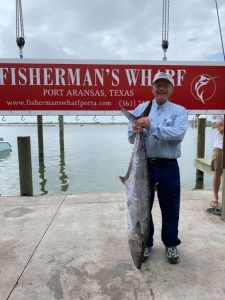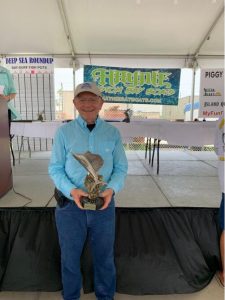 Port Aransas Fishing offers many competitions along its shores, from sandcastle competitions along its shores as well as fishing far off in the deep sea. One man, by the name of Mike Hagee, had been fishing in this competition for over a decade. In fact, since 2007 he's been attempting to win the Deep Sea Roundup. During the competition, he would get a trip through Port Aransas Fishing on the Wharf Cat or Scat Cat, ready for the biggest catch. This year, he decided on the Wharf Cat, and it faithfully led him to victory. With Captain Ronnie as his driver, Mike Hagee came home with a 39lb Kingfish.
Coming home, he won not only first prize, but second prize as well. He earned the top two spots for Kingfish! And if you thought that was a lot, it wasn't all. Mike Hagee also got second place in the Red Snapper competition! On the left, you can see his catch almost the size of himself! And on the right, you can see him with his trophy, happily smiling, knowing he'd claimed his victory from the Deep Sea Roundup.
But wait—there's more.
In the end, he won the overall grand champion runner-up for the offshore division. With all these prizes, surely he must have been a talented fisherman.
Grumbles Seafood Co.
Feeling peckish after a long day of offshore fishing? Head to our restaurant where you'll enjoy ocean front dining with the freshest catch in town. Grumbles is an ocean front seafood restaurant where families and fisherman alike can come "as they are" directly from the beach or the boat. Enjoy the beautiful view of the Port Aransas Harbor from our large, covered deck and watch the boats return from a day of fishing as they unload their catch each afternoon. After all, you've already unloaded your catch!
Deep Sea Fishing Charters
Ready for your own fresh-caught adventure off the coast of Port Aransas? Check out our deep sea fishing charters today. Our captains are looking forward to making your trip memorable.