Port Aransas Mako Shark Catch
On a 9 hour fishing charter while deep sea fishing in Port Aransas, Byron Noles made a 282lb Mako Shark catch! With the average weights of these sharks typically ranging from 132–298 lbs, Nathan caught a monster! They also aren't an easy catch in the deep sea either, with their maneuvers and speed making for a hard fight. This offshore fishing trip was chartered by Port Aransas Fisherman's Wharf with Captain Jake Alkire.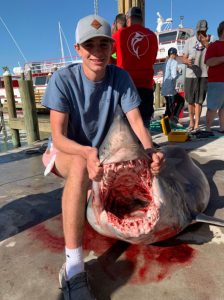 Angler Nathen Powers's 502lb Mako Shark caught off the Port Aransas coast on a deep-sea fishing trip chartered by Port Aransas Fisherman's Wharf captain Jake Alkire.
Thirty-four miles offshore, this deep-sea adventure brought home the largest Mako shark the Scat Cat has ever seen at 10ft 6in! Certainly, a catch to tell the grandchildren one day… far in the future for this youngster.
Fishing Port Aransas—More than Mako Sharks
There are many, many fish in the sea! Mako sharks are just one of the few swimmers that live in the great blue. Aboard our 72-foot aluminum catamaran, we are ready to take you on your personal deep-sea adventure. Our Wharf Cat and Scat Cat are also designed for stability for your friends, family, and colleagues. Fisherman's Wharf dedicates themselves to your comfort and enjoyment abroad our ship.
Grumbles Seafood Co.
Feeling peckish after a long day of offshore fishing? Well, then head to our restaurant, where you'll enjoy ocean-front dining,  but also the freshest catch in town. Grumbles is a fast-casual restaurant where families and fishermen alike can come "as they are" directly from the beach or the boat. Come and enjoy the beautiful view of Port Aransas Harbor from our large, covered deck and watch the boats return from a day of fishing as they unload their catch each afternoon. After all, you've already unloaded your catch!
Port Aransas Deep Sea Fishing Charters
Ready for your own fresh-caught adventure off the coast of Port Aransas? Check out our deep-sea fishing charters today. Our captains are looking forward to making your trip memorable.