56-Hour Fishing Charter Mako Catch
While on a fishing charter, Glen Ratchford made a mako catch worth sharing! With cooler weather in the mid-sixties and rain coming down lightly, Glen Ratchford was out fishing on the 56-Hour Trip. He was on a Tuna Fishing Charter but wasn't having much luck with the tuna. After moving inshore a bit, they started catching Kings and B-Liners. Not long after, they reached their limit for those two fish. They even had a few yellowfin tuna drop by for catching. All this aside, though, these catches weren't much compared to their grand prize.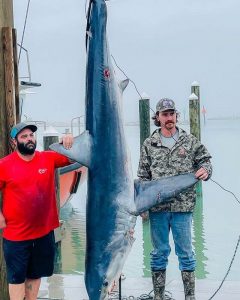 With average mako sharks ranging from 132–298 lbs, this fishing charter had a mako catch of 447lb—certainly a monster of the sea. Also, with a mako's speed and maneuverability, they've proven to be a difficult catch.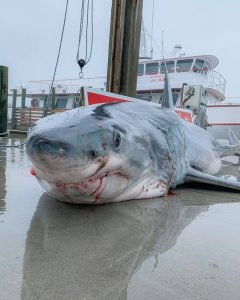 If you look at the close-up picture of the mako shark at the left, you'll see small traces of blood running down its face. This isn't actually from the catch or it being cut, but from another shark. In fact, right before this monster was pulled into the fishing charter boat, it bit in half another shark. The hammerhead didn't stand much of a chance against this mako catch.
Angler Glen Ratchford certainly made a moment to remember.
There are many, many fish in the sea! Mako sharks are just one of the few swimmers that live in the great blue. Aboard our 72-foot aluminum catamaran, and we are ready to take you on your personal deep-sea adventure. Our Wharf Cat and Scat Cat are also designed for stability, for your friends, family, and colleagues. Fisherman's Wharf dedicates itself to your comfort and enjoyment aboard our ship.
Grumbles Seafood Co.
Feeling peckish after a long day of offshore fishing? Well, then head to our restaurant, where you'll enjoy oceanfront dining,  but also the best seafood in Port Aransas. Grumbles is a fast-casual restaurant where families and fishermen alike can come "as they are" directly from the beach or the boat. Come and enjoy the beautiful view of the Port Aransas Harbor from our large, covered deck and watch the boats return from a day of fishing as they unload their catch each afternoon. After all, you've already unloaded your catch!
Ready for Your Fishing Charter Mako Catch?
Ready for your own fresh-caught adventure off the coast of Port Aransas? Check out our deep-sea fishing charters today. Our captains are looking forward to making your trip memorable.