Port Aransas Fishing Reports
Fishing reports in Port Aransas are frequent, but Fisherman's Wharf has some of the most mind-blowing catches you can think of. Home to the Scat Cat and Wharf Cat, our jetties are popular fishing reports spots in Port Aransas. Our reports come from across Fisherman's Wharf, and often times reveal some record-breaking catches.
Fishing Reports in Port Aransas
Of course, most places give out fishing reports, but Fisherman's Wharf is the home to some of the rarest. Recently, there have been such catches like the Rare Sailfish and the Strawberry Grouper—both along our shores.
Port Aransas doesn't just focus on big catches, however, but we also bring together families and keep alive traditions. Check out our fishing report on Daddy-Daughter Fishing and the Father-Son Duo, and see the traditions we've kept alive. Every catch begins somewhere, so every report has a story behind it. Be sure to check out some of these stories!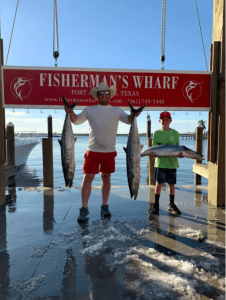 Port Aransas is also home to some of the largest catches you could imagine. Starting with the 502lb Mako Shark and 282lb Mako Shark, you'll see even the smaller catches still massive like the 109lb Spinner Shark. But, of course, those are all sharks—we have plenty of things we've caught as well. With catches such as a large Black Grouper and a massive 147lb Yellowfin Tuna, you will see fish that excel the average size. Fisherman's Wharf Port Aransas also proudly owns the Texas Bluefin Tuna State Record!
As you can tell, Fisherman's Wharf is the home to many memorable fishing reports.
Feeling peckish after a long day of offshore fishing? Head to our restaurant where you'll enjoy water-front dining with the freshest catch in town. Grumbles is an ocean front seafood restaurant where families and fishermen alike can come "as they are" directly from the beach or the boat. Enjoy the beautiful view of the Port Aransas Harbor from our large, covered deck and watch the boats return from a day of fishing as they unload their catch each afternoon. After all, you've already unloaded your catch!
Deep Sea Fishing Charters
Ready for your own fresh-caught adventure off the coast of Port Aransas? Check out our deep sea fishing charters today. Our captains are looking forward to making your trip memorable.